100 Trips in 2022 – Meet Hilton Head Island's Route Scheduler and Drivers Extraordinal
Like so many people who moved to Hilton Head Island, Phil Kiser and his wife Robyn volunteered in their former town and continued that commitment when they arrived in the Lowcountry.
On Friday, December 30 this amazing volunteer duet celebrated their 100th day of delivering meals for Meals on Wheels, Bluffton-Hilton Head in 2022.
"We started delivering for Meals on Wheels, Bluffton-Hilton Head on Route Two in August 2013," Phil said. "Prior to that we delivered Meals on Wheels in the Columbus, Ohio area." Since 2019 Phil has been the route coordinator for the four routes on Hilton Head Island.
"We always saw a need for helping others, especially the hungry, "said Phil. "By delivering for Meals on Wheels we witnessed firsthand what an impact the program has on the lives of so many people."
"In the nine years we have been driving for Meals on Wheels, Bluffton-Hilton Head we have seen a lot of change on Hilton Head Island," commented Phil. "We have seen many more mobile homes in the northern portion of the island and more homes that need attention. It seems like the clients that have been added to routes on the island have more of a need for assistance."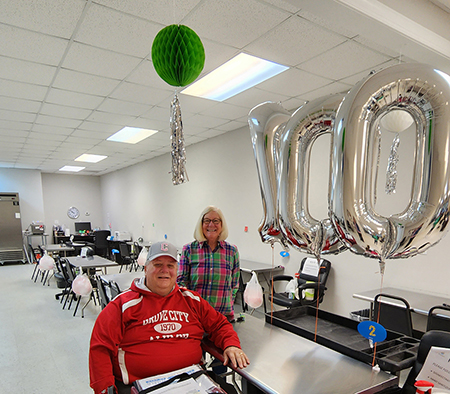 "The Meals on Wheels program is very important, providing a balanced and nutritious meal," said Robyn. "In addition, the wellbeing of the clients is part of the mission, providing a wellness check on each of the clients."
Phil explained that MOW serves the clients that need food assistance plus those in need of nutritious meals to ensure nutrition and balanced meals either long term because of age or a handicapped condition, or short term due to a medical procedure.
"Many of the clients that we have delivered to do not get a chance for social interaction," explained Phil. "During the pandemic the only interaction with others was limited to who came to their door with food each Monday through Friday. The added frozen meal on Fridays was a bonus for the clients, providing them at least one extra meal for the weekend."
"We interact with the clients five days a week," said Robyn. It isn't unheard of for some of the Meals on Wheels staff and drivers to check in on a client even on the weekends. "We also check on the pets of our clients to make sure the pets are well cared for, especially when a client is not able to properly care for the pet."
A previous volunteer task Phil took on at Meals on Wheels, Bluffton-Hilton Head was answering the phones for the agency. He remembers one client who would ask for the menu to be dropped off and extra garlic bread with the popular spaghetti meal. Phil would personally handle these requests. When the client stopped the meal delivery, she left a very heartwarming message directed to Phil, thanking him for the personal touch.
Phil also served on the Board of Directors from 2019 to 2021 and was the chair in 2020 during the COVID pandemic. He remembers that year as one that offered many changes to provide services while following recommended protocol.
Both Phil and Robyn bring with them valuable experiences. Robyn retired after 40 years as a senior research scientist working in toxicology for a contract research firm, Battelle Memorial Institute. Phil retired after 31 years as the Parks & Recreation director for the City of Reynoldsburg, Ohio. Reynoldsburg is a suburb of Columbus, Ohio. After retiring Phil worked as a part time junior high athletic director and faculty manager for the Reynoldsburg City Schools.
They are also active members of the Bluffton Kiwanis Club. Robyn serves as the current club president and Phil is the club secretary. Phil has been a member of Kiwanis International for 52 years. They attend and are active members of The Lowcounty Presbyterian in Bluffton, where they live.
They have lived in Bluffton, SC since 2013. First part time residents they started to vacation in the Lowcountry in 1987. They spent their winters in the Lowcountry starting in 2010 when both were fully retired. ###