MEALS ON WHEELS WELCOMES CHRISTOPHER SPIRES TO BOARD
Christopher Spires of Bluffton has been appointed to Meals on Wheels, Bluffton-Hilton Head's Board of Directors effective immediately. He brings over 25 years of financial planning experience and he works with his customers to educate them on the benefits of charitable planning. He will work to develop and implement an investment policy statement to align the agency's investments and goals.
"I believe we can change the worry about where the next meal is coming from in our community," said Spires. "I love living in the Bluffton area, and I would like to help significantly to eliminate food insecurity for members of our community."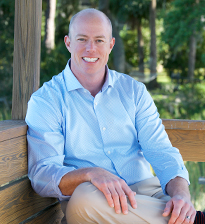 MEALS ON WHEELS
Meals on Wheels Bluffton-Hilton Head, a United Way agency, relies on the dedication of volunteers to deliver a hot, nutritious meal every weekday, 52 weeks a year, even on holidays. Their clients include anyone in the Bluffton-Hilton Head area, including Sun City, needing assistance with meals – whether temporary or long-term. Their expanding delivery area includes parts of Jasper County.
For more information visit Facebook page @MealsOnWheelsHHIandBluffton and on the Web at https://www.lowcountrymow.org.