Meet the new Volunteer/Route Coordinator, Robin Kozma
Robin Kozma, one of our Meals on Wheels, Bluffton-Hilton Head both off-island and on-island volunteer since July, heard we were creating a new position and applied. Her background matched the job description, making her a perfect fit. Her start date, as a member of the staff, was Wednesday, October 19. This is a part-time position, totaling 18 hours weekly.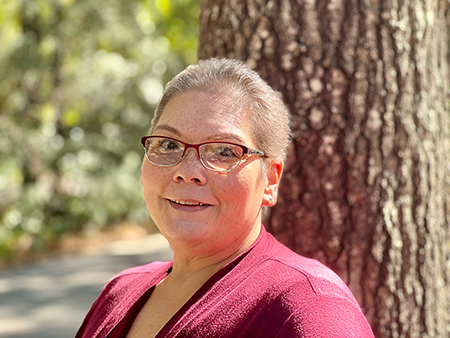 "It is with great enthusiasm that I accept the position as volunteer coordinator," said Robin. "I have always had a desire to help people and I believe that I have found my niche working with the volunteers at MOW."
Robin's role will be to partner with the volunteers to coordinate the routes, calendars, orientation, training, and volunteer recognition. In the future we will create an orientation video, a volunteer manual, and an annual volunteer recognition event in April during Volunteer Recognition Month, to name just a few of our goals.
Robin comes with vast experience in scheduling and coordination from her professional background running the records and jail at the Monterey Police Department in Monterey, California. Prior to that position she was responsible for booking, searching, fingerprinting, and photographing inmates. She worked at the MPD for 31 years and moved to Bluffton in 2021. Prior to the police department, she worked in retail, hotel, and restaurants. She earned a bachelor's degree in human service management at University of Phoenix, while working full-time as a single mom.
Be sure to introduce yourself when you meet her during meal pickup. Her email address is volcoordinator@lowcountrymow.org or volcoordinator@mowblufftonhiltonhead.org (our new URL).