Native Resident Becomes the Newest Board Member for Meals on Wheels, Bluffton-Hilton Head – Meet Omolola "Lola" Campbell
Hilton Head Island, SC, July 15, 2022 – When the nominating committee reached out to Lola Campbell to invite her to join the Meals on Wheels, Bluffton-Hilton Head's board of directors, her response was immediate.
"The mission of Meals on Wheels motivated me to want to become a board member," said Campbell. "Meals on Wheels provides individuals with one of the basic, yet most important, essentials in life-food."
"We are thrilled to have Lola on our MOW team," said Chairman of the Board, Joe Scalzo. "Her passion to help others and knowledge of the low country will be a huge asset to our continuing objective to help provide nutrition assistance to those in need."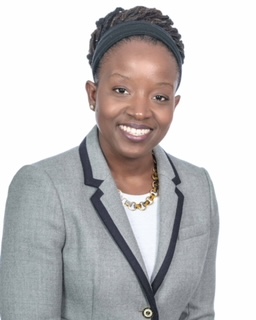 Omolola "Lola" Campbell was born and raised on Hilton Head, into one of the oldest native families, and in the Spanish Wells community.Her great grandfather, Reverend Solomon Campbell, the grandson of an enslaved man living on Hilton Head at the time the Union captured Hilton Head in 1861, is thought to be the first Gullah teacher born and raised on the island.
Her grandfather, Solomon Campbell, Jr., was one of the few early craftsmen, who built bateaus and homes for locals on Hilton Head.
Campbell graduated from The University of Georgia and Howard University School of Law.She was a New York state licensed attorney with 10 plus years of legal experience in the financial industry. She returned as a full-time permanent resident to Hilton Head Island in October 2020.Since returning she has served on the Historic Mitchellville Freedom Park board of directors, and she will assume the role of chair this November.
"I returned to the island primarily to be close to family, but it's also very important that I expose my son to the wonderful lifestyle I had growing up, on such a beautiful island with our own rich history and cultural heritage," she said.Since her return she has published a book named "Writings on the Wall" Poetic Words from My Soul," founded a company called Gone Gullah, which is a lifestyle brand representing the Gullah culture of Hilton Head and surrounding areas and founded a local Gullah-focused gift shop named Binya.
Lola Campbell will assist with community outreach, via local organizations, churches, and communities, to identify more clients in need of MOW services and assist with building the awareness of Meals on Wheels services.
"I am very excited to have been appointed to the board of Meals on Wheels," said Lola."As a young professional relocating to the community in which I was born and raised, I feel it's important to give back in any way possible.My board membership with Meals on Wheels is a perfect way to do so."
Meals on Wheels, Bluffton-Hilton Head - The Power of a Knock on the Door
Meals on Wheels, Bluffton-Hilton Head is a local nonprofit 501-C3 agency that enhances the life of homebound individuals and seniors in our community by providing nutritious meals, personal interaction, and independence.Meal on Wheels, Bluffton Hilton Head is wholly dependent upon contributions from local charities, foundations and agencies, service organization, corporate sponsors, churches, and individuals. Over 300 nutritious hot meals are delivered Monday through Friday, and one frozen meal for Saturdays by over 200 dedicated volunteers.The need continues to grow and by year end, over 33,000 meals will be delivered compared to 18,463 in 2019, prior to the COVID outbreak.With the growing price of food, this outreach to fight food insecurity faced by our most vulnerable neighbors, is more critical than ever.To donate or volunteer visit www.lowcountrymow.org or call 843-802-0919. Meals on Wheels, Bluffton-Hilton Head is affiliated with Meals on Wheels, America and is a United Way of the Lowcountry supported agency.