Thank You to Restaurants

The Winners of the MEALS ON US Restaurant Raffle are:
$2,000 worth of restaurant gift cards to Grand Prize Winner Joy McClure, Bluffton
$1,000 worth of restaurant gift cards to Second Prize winner Nicki Susser, Hilton Head
$500 worth of restaurant gift cards to Third Prize winner Joan Waterbury, Hilton Head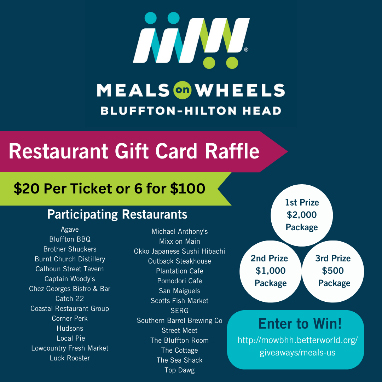 Special thank you to the restaurants for donating a gift card for Meals on Wheels, Bluffton-Hilton Head's first annual MEALS ON US Restaurant Gift Card Raffle. This fundraiser cost less than $1,000 and raised over $13,000. For our agency, that is a significant amount of support. The funds will pay for 1,733 meals for our more than 300 clients annually. WE don't charge for meals, and we deliver smiles, wellness checks, and sometimes even a hug, when asked.
We plan to hold this raffle annually, and hope you will support us again in 2024, when we host the Second Annual Restaurant Raffle in May. We couldn't have done this without your amazing support.